How to do succeed a panenka
If you read this text, you are a football fan. You know that a panenka is not a disgusting polish cake but the name of a former Czech footballer (Antoine, as a Pavel addict, if you read me…).
He is known in the football world by creating a new way of shooting penalties. He fooled the goalkeepers into running as if he was going to shoot normally before coolly chipping the ball straight down the middle and into the net.
Antonin Panenka became a football legend when he scored what has been described as the most famous penalty of all time in the final of the 1976 European Championships against Germany (and its extraordinary goalkepper Sepp Maier).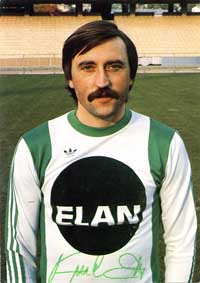 Zinedine Zidane succeed a perfect "panenka" during the final of the 2006 World Cup against Italy. Despite the pressure, he realised a "panenka" we can show in football schools. Watch the master:
Totti is pretty good too.
However, some football players try to realise a "panenka" without success. It's simply because they don't have enough talent. Let's take the example of Mickaël Landreau who is actually a goalkepper. After watching this video, you'll know what shame means.
ps: if you have been interesting by my article, you can by the book "The goals of legend from Ferenk Puskas to Leo Messi" I wrote with Charles "Bezardinho" and Paul "Paul Paul Paul" Chaumont in 2007.
ps: the dvd "Real Madrid vs Juventus: the magic rivality" I made with Antoine Le Troadec is also available on amazon.com.
page revision: 3, last edited: 30 Oct 2008 09:22